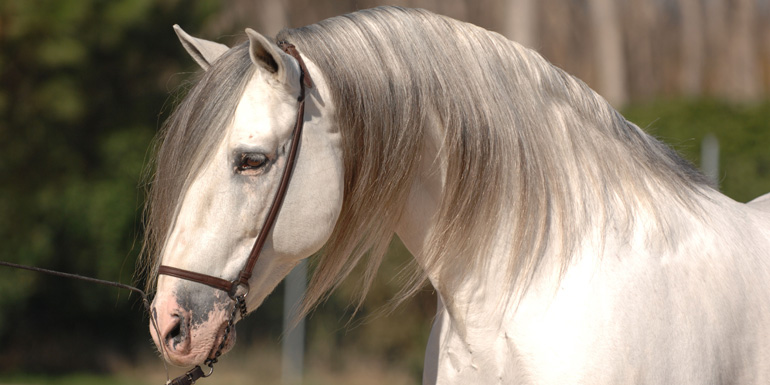 Trianero XVII
PRE Stallion
Height: 1.66m (16.1 hh)
Coat: Grey
Year of birth: 1994
Wonderful example of a grey, certified with excellent marks in the Tribunal for Qualified Breed Stock.
Excellent progeny competing in classical dressage at a high level(Glorioso de Jama, Serengue IV, Trianero de Jama, etc.).
This horse distinguishes himself through his flowing movements, wide and full of rhythm, showing off the  strength in his great hindquarters.
From a confirmation point of view what stands out are his long neck with good joints at the nape, excellent, solid legs, good level back, good rump and hocks.
Amongst prizes won in different competitions Champion of breed at Piedrahita 2005 stands out, Supreme Champion at Piedrahita 2005, Reserve Champion of breed at Equital 2005, Champion in his section at Equital 2005, Champion of breed Ávila 2006, Champion in-hand and ridden in his section at Ávila 2006, and twice finalist at SICAB (the International PRE horse fair). Silver medal at Equinoval 2006.
STUD FEES
Shipping of semen:
– Each dose of semen 250€ (frozen only).
– Shipment costs and container not included.
– In the event of pregnancy, 100 euros on presentation of the service certificate or confirmation of a live foal.
– In the event of there being no pregnancy, covering with another stallion from the equine clinic with fresh semen can be arranged, adding 100€ under the same conditions.